WHAT DOES SCANZONE DO ?
SCANZONE is an application that helps to manage HF frequencies during an event.
It takes into account the GPS coordinates of the chosen location and determines the possible nuisance of nearby transmitters according to their power and distance.

SCANZONE is freely available, but it is possible, by registering on the site, to customize the study by entering the frequencies of its own HF devices.
WARNING :
SCANZONE is an application whose results are only given as an indication.
Indeed, the calculation algorithm does not take into account the geographical reliefs nor the shadow zones generated by possible obstacles (buildings, vegetation etc...).
Therefore, the results must be interpreted with caution.

OPERATING INSTRUCTIONS

1. SCANZONE IN FREE ACCESS
There are 2 possible ways to do a spectrum analysis on a specific location:
A) By city name / postal code
B) By GPS coordinates
A) By city name / postal code / INSEE code
Click on the menu "Transmitters" then "Search by city"
Enter in the search field a city name or a postal code or INSEE
Validate your search
You will get either the city directly or a list of cities corresponding to your choice
Click on the line of the city you are interested in to see the results.
B) By GPS coordinates click on "search by GPS".
Click on the "Transmitters" menu and then "Enter coordinates"
Enter your GPS coordinates (degrees/minute/second or decimal format)
Validate by clicking on "Display transmitters".

You can also use the button "Use my current position" to geolocate yourself automatically. Your browser may ask you for permission before using this feature. Also make sure that geolocation is enabled on your device (smartphone, etc.).
2. ANALYSIS OF THE RESULTS
At this moment you have a complete analysis of the TV transmitters, either analog or digital (DTT) of the chosen location.
With the mouse you can see their frequencies or channels. There are four possible levels of disturbance: low, medium, high and critical.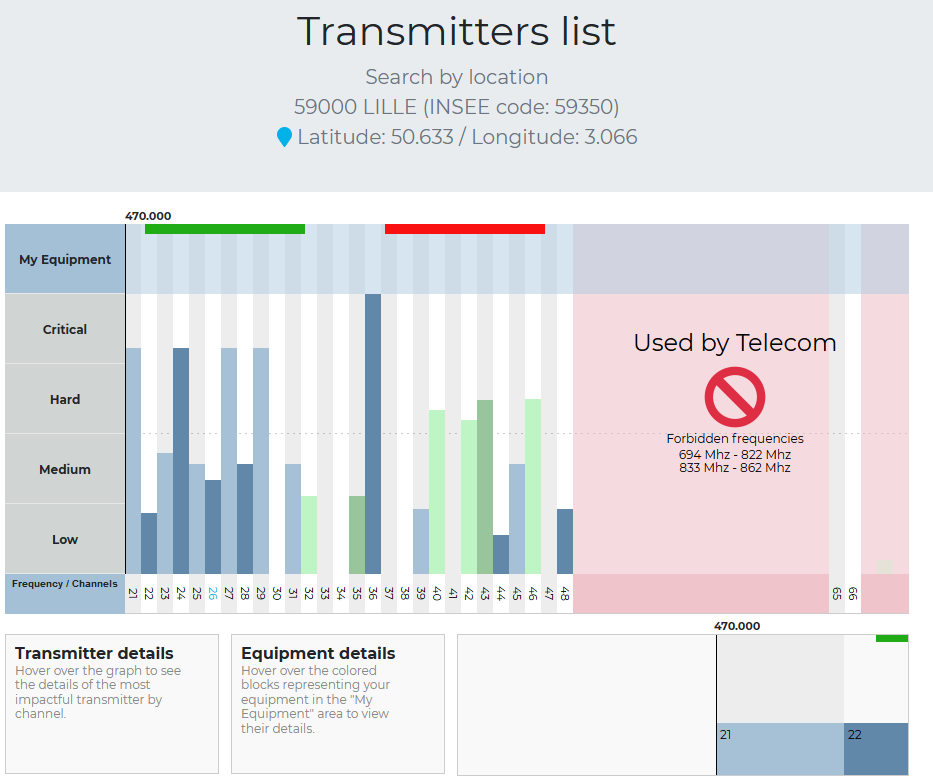 3. SCANZONE WITH FREE REGISTRATION ON THE WEBSITE
By registering on the site you can also enter all your HF systems in the application. Thus, SCANZONE will allow you to locate yourself in the chosen environment.
To enter your HF :
Make sure you are logged in with a Scanzone account
Click on the button at the top right of the menu to access your personal space
Click on "View" on the "Your equipment" block
The list of your equipment is displayed. You can modify an existing equipment or add a new one
Enter at least a name (e.g. its number), its minimum and maximum frequency
You can also choose its color and activate or not its visibility on the graph

Start again for all the devices.

Now that you have entered your HFs you can search again by refering to paragraph 2 "Analysis of results".
If you encounter any difficulties or malfunctions, do not hesitate to let us know by using the Contact menu or via Facebook to send us a message.
SCANZONE is an application managed by the AFSI (Association Française du Son à l'Image).
Thanks to Philippe Chenevez, Yves-Marie Omnes, Jack Ruschel, Xavier Schmitt,
Nicolas Launay, Nicolas Durrande and Olivier Binet.